For the past few weeks I was thinking about writing two posts here about the technology, gadgets and different equipment that I've worked with for the last year or so. The first post should have covered general consumer electronics that I use in my personal life, and the second one I though to dedicate to cover more technical and professional things. While I thought to shortly describe all those nice things in the one or another post and later get into more detailed review of each item in a separate dedicated posts, I shortly realized that these two posts would become way too long, so finally I decided to create a separate Reviews category on my blog and just go with one-port-per-item approach.
So here is my first review of the first gadget in the series that I bought last December during my visit to Monaco: Motorola Moto 360 first generation smart watch.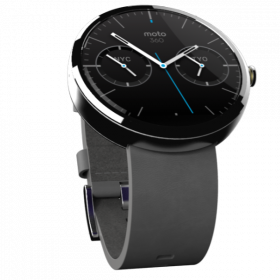 Last year was full of announces of different smartwatches, all kinds of reviews and so on, so the subject definitely caught my attention. I saw more and more people around me with either Apple Watch or some other "wearables". Not that I was rushing to the first shop to get myself a cool thing to be in a trend, but by more of by accident, when I went into a shop with lots of different phones and gadgets, I saw a stand with quite a few different models of smart watches and while looking at all those nice things in front of me I've noted that Moto 360 had a pretty low price tag compared to the rest, probably because it was the first generation while the second was already out to the market, so I decided to give it a try, in order to understand how it feels to wear something smart on your hand.
As a side note, I haven't wear any watches (even old analogue ones) for a very long period of time. Probably last time I had watches was somewhere in school days, so it took me some time to get used to having something wrapping a hand.
I am not going into actual technical specs of the gadget, as you can check this wikipedia page or this gsmarena post to see what's inside. Note that gsmarena states there is no Wi-Fi connectivity in Moto 360, while there is, trust me ;-)
The first useful thing I start actually using is reading all those notifications from social networks, messengers, calendars and on so on the watches. This is way more convenient and faster then opening the app on the phone all the time to check what's going on. No more blinking lights on the phone indicating something unread is there, no need to pick up the phone each time something happens: fast and easy, just take a look at the watch screen, check the notification and swipe it away. There are also many ways to interact with such things like replying with voice, or opening it on the phone in the app, but I am not a big fan of voice commands at all and don't really need to reply to anything instantly, so just swipe away and reply later on from the phone when I have a free minute and good mood.
Viewing notifications on the phone is actually very useful while driving a car, or on the meetings where I don't need to bother with the phone and nobody actually cares if you did couple of gestures on your watches or even white walking with the phone in pocket. The more I used the gadget, the more software from my phone synced to it and more notifications were available. Once I got too much of things I don't really care about or didn't want to see, I blacklisted them from bothering me and things became very handy. Another good thing about this is that every time something happens, watches vibrate, so no way to miss anything.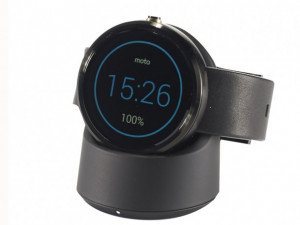 While notifications were the first thing I actually start using, the first noticeable thing came before that, during the initial charge. Moto 360 is charged while seating in a special dongle supplied with from the box and in this mode the screen is rotated to proper orientation and shows dimmed time and charge level.
Very handy feature since I normally charge my phone and watches overnight and have everything by the side of my bed. So now at any time during the night when I wake up, I can see what's the time without checking my phone (No, I don't have any other alarm or wall clock in the bedroom).
Another useful feature is "Forgot your phone" where watch would vibrate and tell that your probably forgot your phone if it loses the Bluetooth connection to my phone. Not that I often forget my phone anywhere, but this feature saved me some time couple of times when I left my phone home on the way to the office. At least I didn't have to drive all way back from the office, instead walk back few meters.
One more feature that I can't miss as it is probably the standard thing for any wearables is a fitness tracker that keeps log of your activity and can show all those fancy stuff like number of steps you did in the last day/week/month or how many calories you burned. As I am not a fitness guy at all, this part is more of a general fun for me than any actual use. Nice to see stats, especially during my trips, as all those airports require one to do a lot of walking.
There are many other features and options one might want to use on the Moto 360 by installing additional apps, but as for me, I try to keep it simple. I have a custom skin that shows me exactly what I wanna see, I use the gadget a lot for reading notifications and they serve me a nice table-top night alarm watches.
As almost one year passed with me using my Moto, few notes to say on top of the above:
I have a standard leather wrist band and while I do prefer it over any metal type ones, it wears out pretty much and doesn't look new at all. Not a big deal though, as I can always replace one with new
The screen is very well scratch resistant. I had many cases where I thought I was supposed to get screen scratched, but after one year the screen is still great.
There were few problems when watch would lose the Bluetooth connection to my phone while being nearby, but after some updates to Android Wear and my phone Android things look way better. Not sure if this has to do with watch, phone, software on any of them or a random combination of all the factors, but now things are settled down and I am completely ok with how two gadgets work with each other
Some 3rd party apps still have to work on their interface for watches (like MailWise mail client that I use is not very comfortable when you have more than one new email to check), but that's probably just a matter of time and those vendors to bring things to the next level.
As this is my first gadget of the type it is definitely not the last one. While I am not a kinda guy who will run for the latest things on the market and just prefer to renew things when something good is available at a reasonable price I will for sure continue to use wearables and probably get myself something more advance in the future.
I believe that having a scroll similar to Apple Watch is much more useful then just a button like in my Moto 360 and I will consider it a big advantage later on when I will be looking for new gadget.
All my concerns about battery life of my phone with all time enabled and connected Bluetooth are deemed now as using watches really saves my phone power because I don't need to wake the phone every now and then for minor things like notifications or even to simply check current time.
If there is anything that I haven't commented on in this post and you would like to know my opinion on with relations to Moto 360 1st generation or smart watches in general, feel free to leave a comment or let me know via any other possible way and I will try give my feedback on that.
P.S.: I am not a frequent blog writer, so if you find any mistakes in the text – let me know, so I can correct them.